Company Profile
| | |
| --- | --- |
| | Location: |
| | Total Revenue: |
| | Main Products: |
| | Main Markets: |
| | Business Type: |
| | Year Established: |
Taiwan
confidential
Terminal Blocks,Fuse Holders,Solid State Relay (SSR),Plastic and
Domestic Market, North America, Southeast Asia, Mid East, South A
Manufacturer
1978
What is Terminal Block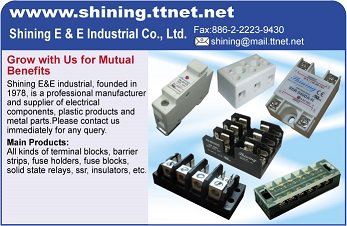 What is Terminal Block?
When you have a set of electrical wires to connect, a terminal block provides a safe, convenient way to keep them organized. They are rugged, easy to use and designed to keep wires of varying gauges securely connected.
Function
A terminal block is a set of two or more similar screw-down connection points. You can connect wires at these points. A terminal strip combines many similar blocks in a single device. In a strip, the blocks are insulated from one another.
Materials
A terminal block's main functions are to connect and to insulate. The main block body is made of a tough material, such as plastic or ceramic, that electrically isolates adjacent blocks. The conducting parts are made of copper and corrosion-resistant metals compatible with copper.
Use
A terminal block must first be mounted in a safe, stable location away from moisture. To use it, strip about ½ inch of insulation from the two wires you want to connect. You then insert the bare wires into the block's metal connectors and screw them down until they're securely fastened.
Special Functions
While most terminal blocks simply create an electrical connection, some have built-in fuse holders, indicator lamps or other features that add functionality for more sophisticated applications.
Variety
You can find dozens of types of terminal blocks, some generic, some specialized. Designers have developed terminal blocks for household, industrial, electronic and many other uses.
Labeling
You can use a terminal block to organize wires having different functions. Many terminal blocks have a labeling scheme that lets you identify how the wires are organized.
Orientation
Terminal blocks are commonly available with one of three different wire entry angles: 45°, 90°, or 180°. 90° and 180° types are also referred to as horizontal and vertical, respectively.
Contact and Wire Specifications
When discussing terminal blocks, the term "contact", also known as a position, way, or pole, refers to a wire attached to the block. The number of contacts is an important specification when considering a product, as a buyer is required to match this number with the number of wires necessary for a project or application. Contact pitch refers to the distance between each contact, measuring from the center of each hole or opening. Contact pitch is directly related to the number of contacts and is typically expressed in millimeters (mm).
Terminal blocks are typically manufactured to accept a range of wire or conductor sizes. North American wire size is expressed in American wire gauge (AWG), which is a standard for non-ferrous wire conductor sizes. Higher AWG numbers represent smaller conductor diameters, and vice versa. For example, a typical AWG 12 household wire has a larger diameter than a AWG 22 telephone wire.
What is Solid State Relay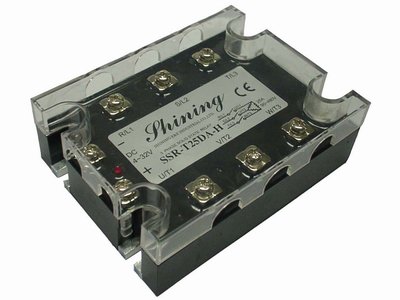 What is SSR?
SSR is new type of excellent performance non-contact electronic switch device which using advanced foreign technology and equipment.
The input end only requires a small control current, and better compatibility with TTL, HTL, CMOS integrated circuit. And the output circuit adopts thyristor or high power transistor to connect and disconnect
the load current. The input and output connecting with photocoupling, on
–off without contact member, therefore it has lot of superiority, such as reliable, ast, no noise, long life, small volume, no spark, corrosion proof and anti vibration etc

.

At present, SSR has been widely used in computer peripheral equipment, electric heating
thermostat, CNC machine, remote control system, industrial automation equipment, signal
lamps, relay family(EMR).
How to Properly Use a Terminal Block

How to Properly Use a Terminal Block ?
A terminal block is one method of connecting a selection of different electrical wires. Terminal blocks come in a variety of different shapes and sizes so you can normally find one that will be compatible with whatever project you are carrying out. The differences in terminal block can lead to problems if an incorrect type is used or if it is not connected properly.
• Step 1 – Terminal Block Type
Look at the electrical equipment you are working on to see what type of connection it requires. Normally you will have either a screw-in or plug-in connection. Screw-in wires are placed inside the terminal block and screwed into position. This type of connection is common for equipment that does not require high voltage protection. A variation on the screw-in connection is one held in place by a spring mechanism. This connector can reduce the time spent on the job because you simply clip it into place instead of removing and replacing the screw. A plug-in connection has a male terminal at the end of the wire. This terminal is connected to the female port on the terminal block and forms a secure connection. Plug in blocks are commonly used in the fuse box of an automobile.
• Step 2 – Choose Terminal Block
Once you know the type of connection that is required, you need to find a terminal block that fits the rest of your requirements. Consider what space you have for the connection and how many wires need to be connected. Terminal blocks are supplied in a variety of shapes and sizes so you should be able to find one to fit your requirements. Next, choose the correct rating: 3, 5, 15 or 30 Amp terminal blocks are widely available. You need to buy the one that meets the highest current level that it will conduct in order to allow the most powerful piece of equipment to function.
• Step 3 – Screw-in Connection
Always make sure that any electrical equipment is turned off before beginning work. For a screw-in connection, you will need to strip a small amount of the insulation from the end of the wire. Normally, around 1 inch is sufficient but this will depend on the component. Unscrew the retaining screw from the terminal block then insert the wire into the hole. Tighten the screw into place. Make sure that it is fully tightened because if the wire is left loose, it will begin to heat up and melt the insulation. Over time, this could result in a fire so take a little extra time to make sure that it is secure.
• Step 4 – Plug-in Connection
Position the terminal block and run the electrical wires to it, connecting the male terminal to the female port. Press firmly to ensure that the connection is secure and won't come loose in the event of any subsequent movement.Step
• Step 5 – Test Equipment
Once you have made all the connections, test the equipment to make sure it works correctly. After testing, check the terminal block and the connections to make sure that there is not excessive heat build-up and the wires are still securely in place.
Verified Supplier
-
SHINING E&E INDUSTRIAL CO., LTD.
Experience:
Established 1978
QR Code
Please Focus on Me

SHINING E&E INDUSTRIAL
( The Professional Terminal Block & Fuse Holder & Fuse Block & Solid State Relay Manufacturer in Taiwan)